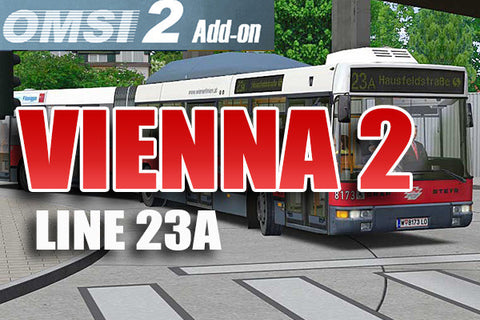 OMSI 2 Add-On - Vienna 2 Line 23A
Be a bus driver! Have you ever dreamt of being a bus driver? Well, now you can take your seat behind the steering wheel of faithfully recreated service buses of the "Wiener Linien"! Fully functional cockpits with lots of animations and realistic sounds ensure high authenticity and create a simulation with the true flair of Vienna!
Vienna 2 – Line 23A is the second of two add-ons for OMSI 2 placed in Vienna. It includes the route of Line 23A in different variants and traffic routings as well as the appropriate articulated buses of high-floor and low-floor generations.
The interesting and challenging routing has been modelled in a true-to-original way with many objects and details, and offers prolonged driving pleasure for beginners and advanced drivers alike.
The buses are completely animated and include lots of functions of the everyday bus rides, such as original announcements!  AI-controlled passenger cars, buses, trains, trams and subways can be encountered on the route thereby putting the finishing touches to the scenery.
Perfect interplay
An ideal complement to this add-on is Vienna 1 – Line 24A: The rigid buses which operate on Line 24A start out from the same point of departure as those on Line 23A. Together, both add-ons ensure great variety and driving fun for many, many hours!
Features
Articulated bus NG 235 M18 (first low-floor generation)
Articulated bus GU 240 M18 (last high-floor generation)
Route Vienna – Line 23A up to the year 2005 to Kagran
New routing Vienna – Line 23A since 2006 up to "Kagraner Platz"
Lots of new objects and street models
Real streets and buildings – maximum of authenticity
Many different routings with original timetables
Original "Wiener Linien" bus stop announcements
AI tram Type E1-c3 and Type ULF
AI subway Type U
All vehicles are original replicas of the "Wiener Linien"
AI trains city train BR 4020 and Taurus locomotive BR 1116 of the ÖBB (Austrian Federal Railways)
New AI cars and AI motorbikes, perfectly animated – for the first time in OMSI's traffic
Interesting and challenging routing
Many details and authentic scenery objects
Area / Line: Vienna, 22nd District
Line 23A in different routings:
until 2006: Kagran U – Hirschstetten am Heidjöchl
since 2006: Kagraner Platz U – Hausfeldstraße S


System Requirements

Required Software

OMSI 2 min. 2.2.032

Operating System
Windows XP/Vista/7/8/8.1
Processor
CPU 2,6 GHz

Memory

4 GB RAM
Graphics

Video card with 1024 MB VRAM (DirectX: 9.0 or higher) 

Others

Internet connection for the online registration required
Download-Size: 570 MB
Installations-Size: 1.2 GB