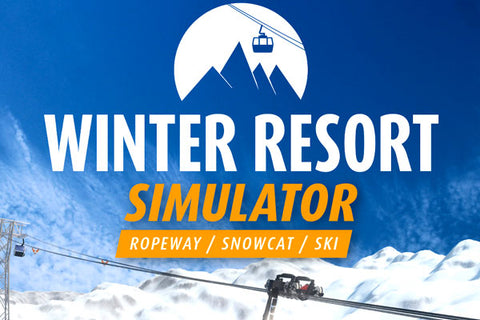 OUT NOW
Keep the winter wonderland of an alpine region running! With Winter Resort Simulator, HR Innoways now present their first stand-alone simulator in which you can ski on different routes and control a ropeway and various snow vehicles in a realistic alpine winter region.
Design your own ropeway route in the free game and take on varying missions in the career mode. Enjoy your game on a six square kilometres large map with 5 pre-defined ropeways.
Different vehicles from the individual cable car gondolas to snowmobiles are available to you. Drive all of them through the dynamic weather and leave your traces in the snow.
Thanks to the cooperation with well-known brands like Doppelmayr and Kässbohrer, the in-game vehicles and the control panels of the ropeway appear just like their real counterparts. In addition, you can explore a village with various detailed points of interests like ski huts and viewing platforms.
You can use different vehicles like ropeway gondolas, snowmobiles, snowcats or off-road vehicles and even ski. The ropeway control is based on the "Doppelmayr Connect" control. All ropeways are original licensed by Doppelmayr.
The game features a detailed economic system with ticket prices and reputation which you need to raise by improving satisfaction and publicity. It's your job to keep the ski region safe and ready, e.g. by blowing up avalanches to prepare your slopes.
You have to deliver different objects like food and other vitally important stuff. Do you accomplish it to control and manage the cable cars without forgetting other tasks
Features
Control your cable car
Included original control panel
Alps-inspired scenery with dynamic weather and deformable snow
Snowmobile, snowcat, off-road vehicle and ski
Missions in career mode
Transport missions with the use of different vehicles and cable car
Free game that allows you to design your own cable car route
Original brands, e.g. Doppelmayr, Kässbohrer
Modding support
Included cable cars and vehicles:
Cable car Doppelmayr D-Line with CWA Omega V cabinet and DCD-chairs
Doppelmayr 3S with the brand-new CWA Atria cabinet
Snowcat 600 "LEVEL RED"
Snowcat 600 "LEVEL RED" with winch
Snowmobile
Snow gun
Pickup
System Requirements
| | |
| --- | --- |
| Operating System | Microsoft Windows 7 / 8 / 10 (64bit) |
| Processor | Dual Core CPU with 3.0 GHz and Hyper Threading (Quad Core CPU with 3.5 GHz |
| Graphics | 2 GB VRAM, DirectX 11, Shader Model 5.1 (4 GB VRAM recommended) |
| Memory | 4 GB RAM (8 GB RAM recommended) |
| Hard Drive | 4 GB available space |
| Additional | Internet connection and Steam user account required |