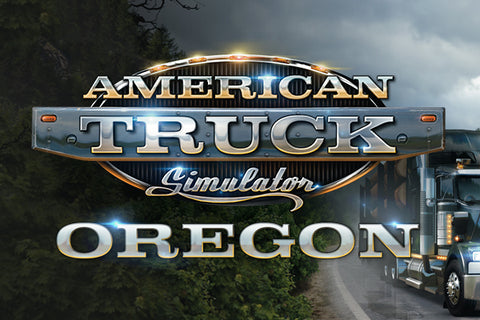 American Truck Simulator: Oregon Add-on
Go down the road and experience the wild beauty of the "Beaver State", Oregon. The evergreen natural scenery stands out against the deserted countryside, as well as dense city areas like Portland and Salem. Vast forests cover roughly 60 percent of the state, and together with many rivers, not only form the typical western Oregon nature, but also an important part of the economy of the state.
Oregon is one of the most geographically diverse states in Northwestern U.S. It's the 9th largest, and with a population of 4 million, forms the 27th most populous state. It's natural beauty includes deep forests, plenty of water areas and rivers, and encompassing volcanoes, high deserts, and arid scrublands.
- Over 5 thousand miles of new in-game roads
- 14 major cities, including Portland, Salem, and Eugene
- 13 large custom rest/truck stops for parking and refueling
- Lots of smaller rest areas and motels around the roads
- 700+ completely new 3D assets
- 25 Unique, complex and realistic custom-built junctions and Interstate interchanges
- 17 new local company docks and industries
- Well-known landmarks both natural and man-made - Mt. Hood, Thor's Well, Crater Lake, Crooked River Valley, Yaquina Head Lighthouse, Youngs Bay Bridge
- Oregon-bound achievements to unlock
System Requirements
Minimum

Recommended

OS: Windows 7 64-bit

OS: Windows 7/8.1 64-bit

Processor: Dual core CPU 2.4 GHz

Processor: Quad core CPU 3.0 GHz

Memory: 4 GB RAM

Memory: 6 GB RAM

Graphics: GeForce GTS 450-class (Intel HD 4000)

Graphics: GeForce GTX 760-class (2 GB)

Storage: 3 GB available space

Storage: 3 GB available space

Please Note



Internet connect and free steam account required

If you are not familiar with Steam you can check it out here http://store.steampowered.com/about/

Mac OS system requirements

Minimum

Recommended

OS: Mac OS X 10.9 (Mavericks)

OS: Mac OS X 10.10 (Yosemite)

Processor: Dual core CPU 2.4 GHz

Processor: Quad core CPU 3.0 GHz

Memory: 4 GB RAM

Memory: 6 GB RAM

Graphics: GeForce GTS 450-class (Intel HD 4000)

Graphics: GeForce GTX 760-class (Intel HD 5300)

Storage: 3 GB available space

Storage: 3 GB available space

Please Note

Internet connect and free steam account required

If you are not familiar with Steam you can check it out here http://store.steampowered.com/about/