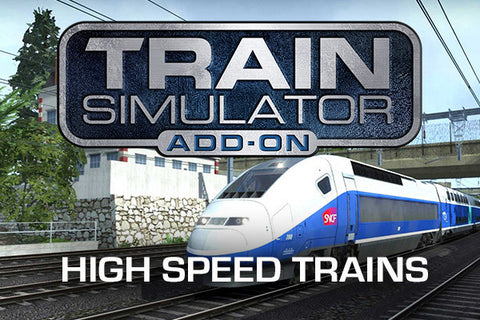 TRY LIFE ON THE FAST TRACK
Enjoy the thrill of the high speed express in the streamlined Southeastern Class 395 'Javelin' along the London-Faversham route. 
Take on the famous high speed Mannheim to Karlsruhe section of The Rhine Railway in the DB BR 406 ICE 3M. 
Drive the breath-taking Ligne Grande Vitesse: Marseille Saint-Charles to Avignon-TGV105km route in the iconic SNCF TGV® Duplex. 
Get started on your driver career at the TS Academy and master your machines.
Rise to the challenge in a series of rewarding career scenarios.
Create and share your own creations with the community on Steam Workshop.
Featured in this pack:
TS 2016 core technology
LGV: Marseille – Avignon route including SNCF TGV® Duplex with official SNCF livery
London – Faversham High Speed route includes the Class 395 in Southeastern blue High Speed livery and the Southeastern Class 375 (Quick Drive compatible). 
Mannheim – Karlsruhe route including: DB BR 406 ICE 3M in DB livery, DB BR 189 in DB Traffic Red livery, DB BR 425 in Traffic Red livery, DB BR 294 in DB Traffic Red livery (Quick Drive only)
Nineteen scenarios across all routes


System Requirements
Operating System
Windows® Vista / 7 / 8
Processor
2.8 GHz Core 2 Duo (3.2 GHz Core 2 Duo recommended), AMD Athlon MP (multiprocessor variant
Memory
2 GB 
Graphics
512 MB with Pixel Shader 3.0 (AGP PCIe only)
DirectX®
9.0c
Hard Drive
6 GB
Sound
Direct X 9.0c compatible

Other

Broadband Internet connection required
Quicktime Player is required for playing the videos

free steam account required for activation and online gameplay