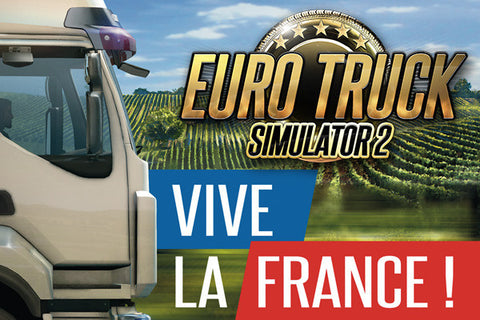 Euro Truck Simulator 2 - Vive La France!
The French territory has been enhanced and expanded in this new add-on for Euro Truck Simulator 2.  
A full map of France embraces the changing landscape of this beautiful country from the boulevards of Paris and narrow streets of its rural hamlets.  Enjoy the stunning backdrops of famous landmarks and experience the tollgate system on all major routes. 
You must have Euro Truck Simulator 2 installed to enjoy this add-on and transport your cargo across France and further afield across Europe. 
Extensive map of France to explore
Almost 20.000 km of new roads and highways
Famous landmarks places and zones
New 20 unique cities
Rural French villages and sceneries
Enhanced new vegetation models
Artificial forest ecosystems
Local companies to work for
French tollgate system
Brand new industries
New cargoes

THIS IS AN EXPANSION PACK ONLY. EURO TRUCK SIMULATOR 2 (AVAILABLE SEPARATELY) MUST BE INSTALLED FOR THIS PRODUCT TO FUNCTION. YOU MUST ALSO HAVE AN ACTIVE STEAM ACCOUNT WITH EURO TRUCK SIMULATOR 2 ACTIVATED ON THAT ACCOUNT 
System Requirements
Operating System

Windows 7/8.1/10 64-bit
Processor
Quad core CPU 3.0 GHz
Memory
6 GB RAM
Graphics
GeForce GTX 760-class (2 GB)
Hard Drive

3 GB available space

Others

Requires free steam account and internet connection

If you are not familiar with Steam you can check it out here http://store.steampowered.com/about/