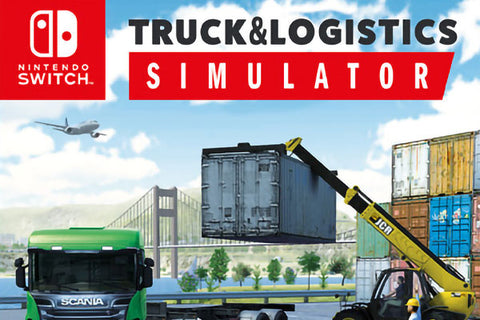 Truck and Logistics Simulator - Switch
Pre-Order
Releases: 26th June 2020

Truck & Logistics Simulator for Nintendo Switch is a simulation game where players are tasked to perform logistics from beginning to end in single or multiplayer. There is a large variety of vehicles that players can drive.
Players will initially take a mission with their vehicle (semi-trucks, rigid trucks, pickups, vans), then load their vehicle using a forklift, crane, telescopic handler, loader and other load vehicles. For vehicle carrying truck missions, players must park vehicles on trailers by themselves.
Players can fill up their fuel tanks from fuel stations, and repair their vehicles in maintenance areas when they are damaged. The multiplayer enables the players to play some special coop missions that can only be achieved in a team.
Missions will take place in a freely accessible open world in which players follow the GPS to their destination. Obeying traffic rules and driving carefully without damaging the cargo will lead to higher income. To shorten the road players will be able to use ferry boats. Some missions offer more demanding challenges, like urgent missions which must be completed in the shortest time, and fragile cargo missions where players must take special care when loading and delivering.
In addition, there are a day/night cycle and realistic weather conditions including fog and rain which will affect vehicle handling.
While the main focus is on the driving experience with a large variety of vehicles, Truck & Logistics Simulator also features a comprehensive economy system. The players can found their own logistics centre with a vehicle fleet, expand their warehouses, hire drivers, and much more.
Features
Load your vehicle by using loading vehicles from logistical areas (Forklift, crane, loader, etc.)
Deliver vehicles (cars, forklifts, wheel loaders, ATV's) by loading them on the trailer
Day/night cycle and realistic weather conditions that affect vehicle handling: rain, fog, and snow
Driver level system with multiple levels that unlock advanced missions
Fuel system: Refuel at fuel stations
GPS system: Follow GPS on the mini map or vehicle interior to the destination
Purchase vehicles from minivans to heavy trucks and grow your logistics fleet
Build your own logistics company, hire drivers and assign vehicles
Traffic with realistic physics
Interactive interior dashboards for all vehicles
Off-road paths: challenging narrow dirt roads
Multiplayer mode with cooperative missions
Gamepad, steering wheel, joystick support
A map where you can navigate anywhere freely without hitting invisible walls
Traffic rules: speed limit (radar controls), indicators on crossroads, traffic lights
Get out of vehicle
Ferries
System Requirements
| | |
| --- | --- |
| Operating System | Nintendo Switch |