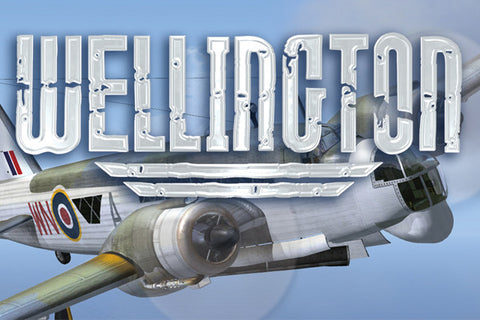 Chocks away! as the iconic Wellington Bomber takes to the air for Microsoft Flight Simulator 2004 and FSX.
Crafted with an eye to detail, by enthusiasts, for enthusiasts, this simulation of the Wellington places you in the Captain's seat of this classic warbird.
Featuring the four most popular variants of the Vickers Wellington, the MK IC, the B. MkIII, the B. Mk X and B. Mk XIV, military aircraft fans will delight in getting airborne in support of Bomber and Coastal Commands in the aircraft that was always guaranteed to be in the thick of the action.
From the first ever RAF bombing raid of World War 2, to hunting submarines over treacherous waters, to clandestine troop deployments behind enemy lines the Wellington became one of the great success stories of Anglo-Allied operations.
The Wellington offers one of the most realistic recreations ever to grace a desktop simulation. The highly distinctive lines of the fuselage are supplemented by a raft of custom animations that offer an unprecedented depth of realism. With an authentic cockpit layout, and precision handling amid the roar of the mighty engines, aviation history bursts into dramatic life.
To compliment the Wellington we also include additional scenery for RAF Driffield, circa 1941, home to the finest Wellington Squadrons. Aspiring Wellington crews are also requested to assemble in the briefing room ahead of embarking on a series challenging FSX missions that will test both pilot and aircraft to the limit.
The amalgam of this lavishly detailed aircraft, period scenery and breathtaking missions come together to relive the unforgettable experience of the glory days of the Wellington.
System Requirements
| | |
| --- | --- |
| Required Software | Microsoft Flight Simulator 2004 / X |
| Operating System | Windows XP(SP3) / Vista / 7 |
| Processor | Intel 2 GHz or greater |
| Memory | 1 GB system memory |
| Graphics | Dedicated graphics card with 128 MB memory |
| Hard Drive | 1 GB available space |
Updates