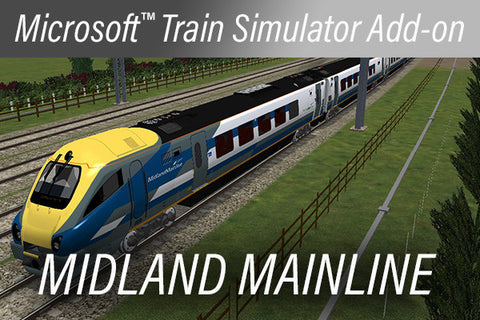 St Pancras is a major railway station in the heart of London and where your journey aboard the Midland Mainline begins. It was opened in 1868 by the Midland Railway company as the southern terminus of the Midland Mainline arriving from the East Midlands and West Yorkshire. In recent years the complex has undergone renovation and expansion and has re-opened as St. Pancras International with a new terminal for the high speed service to Europe via the Channel tunnel. 
This train simulator add on includes the 50-mile journey between London and Bedford with all 15 stations along the route. 

There are ten activities to be completed in Midland Mainline, designed to test your skill and judgement. Activities encompass both passenger and freight services and are set to increase your enjoyment of this MicrosoftTM Train Simulator add-on. 
The Midland Mainline locomotives include:
Class 319 Dual Voltage EMU
Class 43 HST in Midland Mainline livery
Class 22 Meridian in Midland Mainline livery
Class 37 in Export Blue livery

System Requirements
| | |
| --- | --- |
| Required Software | Microsoft Train Simulator |
| Operating System | Windows XP(SP3) / Vista / 7 |
| Processor | Intel 2 GHz or greater |
| Memory | 1 GB system memory |
| Graphics | Dedicated graphics card with 128 MB memory |
| Hard Drive | 700 MB available space |