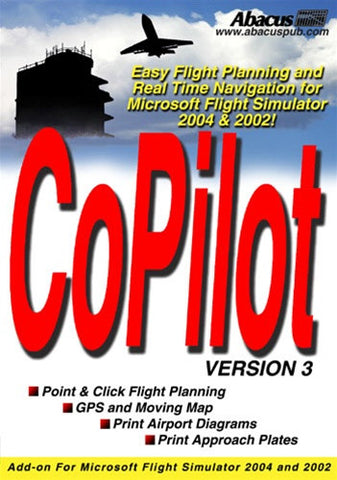 CLEARANCE ITEM  May have imperfect packaging but comes with a full 12 month warranty*
CoPilot V3 is a completely revamped and updated version of the best selling Microsoft™ Flight Simulator add-on series which facilitates easy flight planning and real-time navigation. Fully compatible with both Flight Simulator 2002 / 2004's large database of airports and navaids, CoPilot V3 sports a fantastic point-and-click flight planner, a much simplified GPS with enhanced autopilot control, a convenient moving map plus it prints complete airport diagrams and instrument approach plates. 
Point and Click Flight Planning - CoPilot V3 automates your planning. Use point and click to choose your destination. CoPilot V3 finds the waypoints, specifies compass headings and calculates the distances. 

Works with most add-on sceneries - CoPilot V3 uses the information from your Microsoft Flight Simulator scenery files. This means that your planning is customized for your particular setup for virtually all of the scenery add-on packages you may install. As you install new scenery, CoPilot V3 will recognise the new airports, runways, navigation aids and frequencies. 

Printed Maps, Charts and Approach Plates - Print your own tailor made "Airman's Guide" using the chart printing facility. You can print your entire flight plan and aeronautical maps for your reference. For arrival, CoPilot V3 prints full-page airport diagrams. For flying in clouds or in bad weather, CoPilot V3 prints the instrument approach plates and other pertinent airport data including glide slopes and ILS frequencies. Because CoPilot V3 works with all of your add-on scenery, your charts will reflect your exact Flight Simulator setup. 

Global Positioning System (GPS) instrument - The GPS receiver "talks" to Flight Simulator and lets you navigate effortlessly no matter where you want to fly. Select your destination and the GPS tells you how to get there! No more cumbersome VOR frequencies to dial in or OBS settings to worry about. Fully compatible with most 3D Video cards - even those that run in full-screen only mode. Completely resizable and movable and can be tucked into a small corner of your instrument panel. 


System Requirements
| | |
| --- | --- |
| Required Software | Microsoft Flight Simulator 2002/2004 |
| Operating System | Windows XP(SP3)/Vista/7 |
| Processor | Pentium 4  2GHz or greater |
| Memory | 1 GB system Memory |
| Graphics | Dedicated Graphics card with 64 MB memory |
| Hard Drive | 200 MB available Space |
 * This does not affect your statutory rights