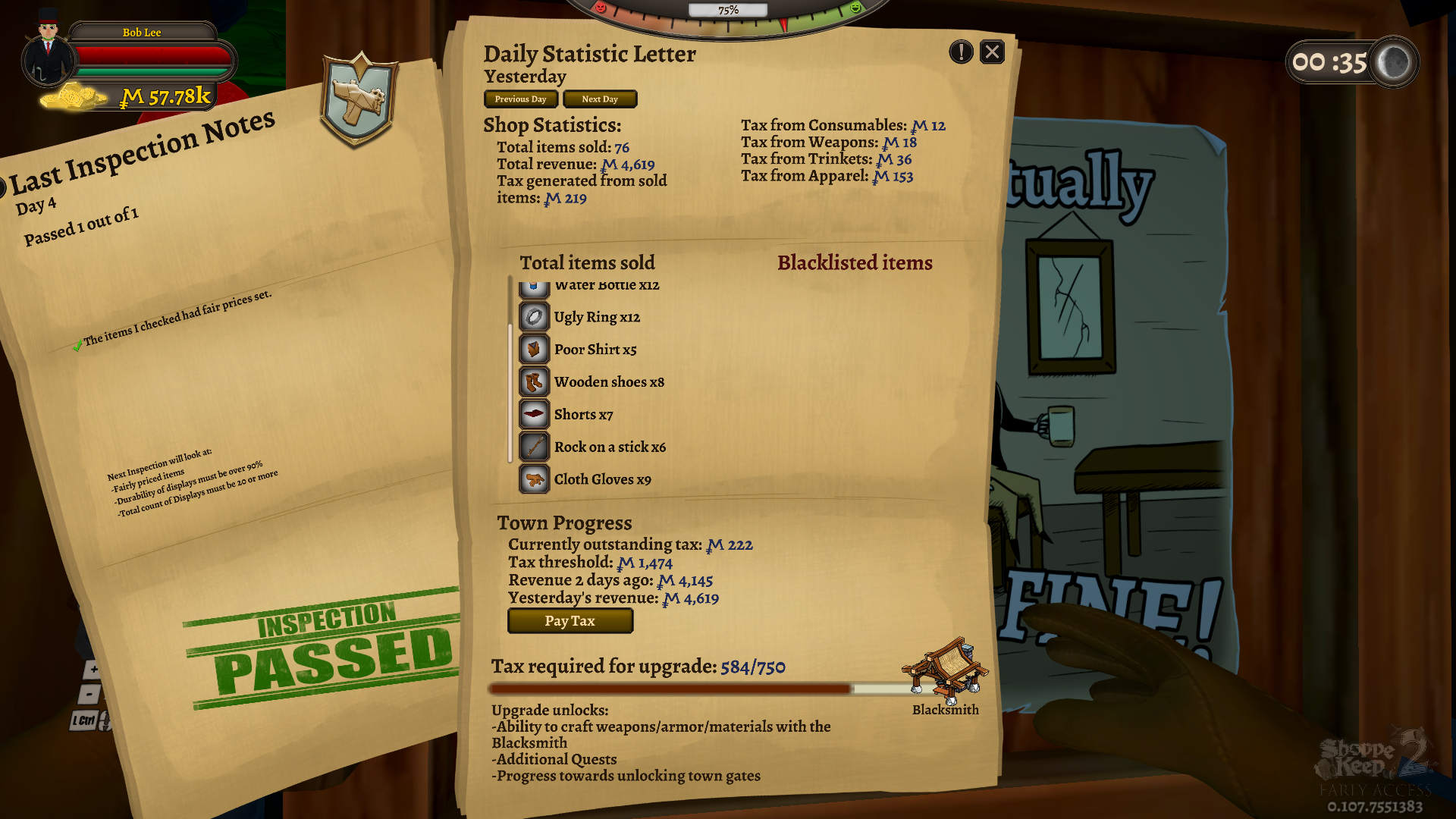 0 Comment(s)
/
by Chris Cleveland
Hello everyone,

A brand new Shoppe Keep 2 update is now live, and is part of our continued journey to improving the core gameplay.

Our previous update introduced a few changes to the way customers interact with your shoppe, and provided players with the opportunity to see when customers were upset with your shoppe. This week's update evolves further from the foundations introduced in the last update.

The Secret Guild of Shoppe Keepers
As a budding young shoppe keeper, you probably feel like you have a good understanding as to how one should manage their business. However, with today's update we have introduced the Secret Guild of Shoppe Keepers.

Who are the Secret Guild of Shoppe Keepers, you may ask? Well, it's a secret! However, while the persons responsible for the guild keep their identity hidden, they will often visit stores around Customerania and evaluate the quality of a shoppe.

How do they evaluate a shoppe? There's a variety of factors! They will look at furniture pieces and their durability and talk with customers about their experience within the shoppe. You can get a pretty good idea of your current standing by looking at your shoppe appeal (which has been added to the very top of the screen as part of the last update).

After they visit the shoppe, you will receive a letter on your marketing board which will tell you whether you passed the inspection or whether you failed. You'll also be informed of which requisites will be inspected when they next visit.




As you pass each rank you'll earn a new title and unlock a new special item of clothing. Here is a preview of the clothing that you'll unlock in your journey to become The Magister General of Grand Inspector Generals of Shoppe Keepers.




The ranks which you can obtain are represented by several emblems. 



Along with a special item and fancy new title, you will also unlock Steam achievements as you progress through the ranks. 

We have made a few other changes and fixes to the game. but we hope that this new challenge will give you an objective to strive towards when running your shoppe.

Let us know what you think of this update! Remember to join us and the rest of our amazing community on Discord by clicking the link below:

discord.gg/9HV3AXM

Full Change Log
Additions
Secret Guild of Shoppe Keepers inspections and ranks introduced.


You are now part of an elite secret guild of Shoppe Keepers. To climb their ranks you must pass a number of inspections.
Each inspection will increase in difficulty, but passing one will allow you to climb the ranks and receive part of a unique Shoppe Keeper suit.
Inspections happen between 8am - 6pm and will happen every 4 days. They will look at pricing, number of furniture pieces and their durability, and more.
When a rank has been reached a notification will be displayed and an achievement granted
In multiplayer, a player's rank can only increase 1 at a time, and only up to that of the host. If a player is higher ranked than the host, then they will not gain a rank until the host catches up

Additional tool tips added when hovering over Helper Bot tasks to explain what each do.
Tool tips added explaining each statistic within the inventory window
Additional Achievements
Achievement icons added for in-game achievements
Fall damage added
Fish underwater sound effects added
Changes
Updated Crafter house images in the day statistic progress screen as well as the town map
Customers now only have a 50% chance of generating trash in trash cans when using them
Tax earned when an item is sold is now shown in the item UI within the hotbar
Crab Health increased
Crab Armor increased
Updated underwater foliage
Water Splash sound effect is now dependent on how long you are falling
Sun rays underwater fade out at night
Customer can now interact with trash from a further distance
Decoration appeal bonus lowered
Fixes
Trash bag orientation fixed
Customers no longer get stuck in place after talking to you, and no longer get stuck in an infinite sales loop
World should now save if quitting to desktop
Clients in multiplayer can now unlock upgrades properly
Customers won't step on Helper Bots anymore
Floor 2 purchases correctly deduct money
Items with dual materials now display correctly
Thanks,
The Shoppe Keep 2 Team
Tags:

Change Log, Designer, Developer, Development, Early Access, Humor, Humour, Out Now, screenshots, Shoppe Keep, simulator, Steam, store news, update