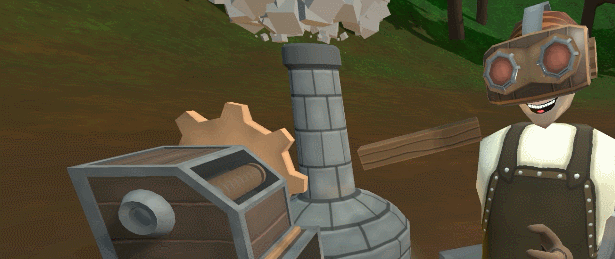 0 Comment(s)
/
by James Clements
A Chat with Craft Keep VR Developer Arvydas Žemaitis 
We began by asking Arvydas how he'd describe Craft Keep VR in a single sentence. "Provide a service to customers as an artisan crafter, and progress through an epic storyline in order to uncover a long forgotten item that has to be created."
Would I be sacked if I said this didn't sound cool? Maybe, so I'm a little biased. But, seriously, how cool does that sound?! Not only do you get to provide weapons and potions to fantasy heroes, but you will even go on your own grand adventure, as the Early Access period progresses!
A lot of players, and even developers, are just stepping into the world of VR technology. This is Arvydas' first foray into VR development, and so he had a little to say about the process.
"Working on a VR title makes you think outside the box. Some effects, for example, are just not viable in VR. Take camera shaking, or panning. Unless we are creating 'Vomiting Simulator 2017', then that is exactly what you have to avoid.
When developing a game [for VR], you envision yourself sort of like the architect from The Matrix. What you say goes. It is your world, the AI are your children. You raise them, teach them. In VR we finally can 'touch' the worlds we create. It's as close as possible to proper lucid dreaming where you are in full control of the world around you."
When asked what core game mechanics he's most excited about Craft Keep VR players getting to grips with… we feel that Arvydas got a little distracted. But his answer is brilliant nonetheless.
"I look forward to seeing YouTubers drinking their own brewed VR beer and trying to hit a target with a crossbow. Yes - I challenge you." Honestly, please do send us over any videos of this, YouTubers and Twitch streamers. It'll make our day at the office just a little better! (You can find our contact details at the bottom of this blog!)
We then tried to get a sneak-peek on Craft Keep VR's future updates for you all.
"We are launching Craft Keep VR into Early Access, as we had enormous success with Shoppe Keep in regards to community feedback and suggestions. We hope that Craft Keep VR will grow exponentially together with the community as it progresses. Each update should have a new chapter further pushing the storyline, which will include a new environment, new workbench parts, and hopefully some new crafting mechanics."
While Craft Keep VR is very exciting, we also realise that a large portion of our audience are Shoppe Keep fans.
Arvydas had the following to say. "Shoppe Keep is our baby - we love it, cherish it and want to see it go to college. About 5-6 updates have been launched after we announced Shoppe Keep was a finished product, but we still hinted towards some new content for the future. One of them is the Inn.
This Inn will be unlocked by the player and will be upgradable as well, to allow more tired customers to just sit down and have a drink, or eat a steak. Of course the player will be receiving all the revenue for this. In addition, the champion grows ever stronger by each passing day. A new adventure will be available for the champion to best, with all new loot, and a new Druid tier set.
Not counting numerous performance upgrades and other tiny changes/fixes, hopefully we will launch some more content for Shoppe Keep. This is not a DLC – it's fanservice, as a thank you to the community that has been awesome, from launch, to this very day."
To keep up to date with everything Shoppe Keep and Craft Keep VR, make sure to follow us on Twitter and Facebook, as well as Arvydas' Twitter account for regular updates.