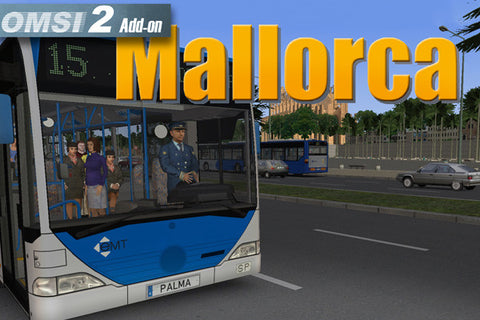 The omnibus simulator captures the famous holiday island! With the OMSI 2 Add-on Mallorca the player can experience the popular beach region on the Canaries along the Platja de Palma cities Palma, Can Pastilla, El Molinar S'Arenal. Three city bus lines, one express bus line and 33 special lines lead you through these nearly completely open cities, extensively staffed with more than 1,000 objects and buildings. The motorway MA-19 along the eastern part of the bay is also included. 
Thanks to a cooperation with the local transport service EMT Palma, the modelled routes and timetables follow the original schedule data of the Palma region. For passenger transportation, the player has one solo bus and one articulated bus at his disposal. They come with true to original liveries as well as newly recorded announcements and passenger voices.
Several animations bring the scenery to life; for example, you can find cruise liners docking in the harbour and airplanes landing at Palma de Mallorca Airport.
The buses can not only be used on Mallorca, but are also compatible with the add-on Project Gladbeck.
Features
The cities of Palma, Can Pastilla, El Molinar, S'Arenal, Platja de Palma
Four of the five cities can be driven in almost completely
3 city bus lines
1 express bus line
33 special lines
Real schedule data from EMT Palma
Including solo bus and articulated bus of the transport services
Announcements and new voices of the passengers
More than 1,000 objects and buildings
Motorway MA-19 included
Buses compatible with add-on Project Gladbeck
Docking and departing cruise ships
Airplanes landing at the airport


System Requirements
Operating System
Win 7 / 8.1 / 10
Processor
min. 2.8 GHz
Memory
4 GB or higher
Graphics
at least 2 GB, DirectX 9.0c or higher
Hard Drive
1,5 GB

Others

OMSI 2 – The Omnibus simulator min. 2.2.032 

Internet connection and Steam user account required