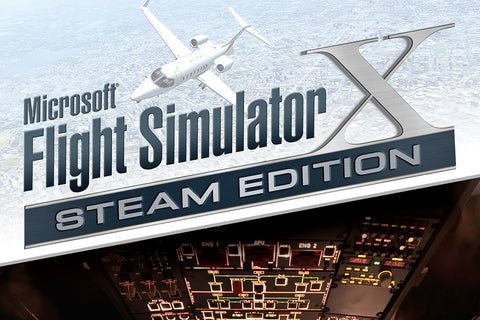 Microsoft Flight Simulator X Steam Edition
Head for the skies in the world's favourite flight simulator as you take off from almost anywhere in the world whilst flying some of the most iconic aircraft to any one of 24,000 destinations.
Take the controls of aircraft such as the 747 jumbo jet, F/A-18 Hornet, P-51D Mustang and the EH-101 helicopter.
There is an aircraft for every kind of flying adventure.
Firstly select your starting point, set the time, the season and the weather and then take off from one of more than 24,000 available airports and explore a world of aviation beauty that will entrance you as it has millions of flight simulation fans from across the globe for the past thirty years. 
This brilliant Microsoft Flight Simulator X Steam Edition gives players a connected world where you can choose who they want to be, from air-traffic controllers, co-pilots and pilots.
The Racing mode lets you compete against friends with four types of racing including Red Bull Air Race courses, the unlimited Reno National Championship course plus cross country, competition sailplane courses and fictional courses such as the Hoop and Jet Canyon.
You will also be able to test your skills with the three different levels of difficulty with simple pylon racing to racing highly challenging courses in a variety of weather conditions.
With over 80 missions, you can test your prowess to earn rewards. Try your hand at Search and Rescue, Test Pilot and Carrier Operations. Keep track of your achievements on each mission and improve your skill levels until you're ready for the next challenge.
FSX Steam Edition enables flight simming pilots to fly the aircraft of their dreams be it the De Havilland DHC-2 Beaver floatplane, the Grumman G-21A Goose, the AirCreation 582SL Ultralight or the Maule M7 Orion featuring wheels and skis. Add to your collection of aircraft and improve the fidelity of your world with FSX Add-ons.
The inclusion of AI-controlled jet ways, fuel trucks and moving baggage carts just adds extra realism to the experience of flying at busy airports.
Whether you want to challenge your friends to a heart-pounding race or just take in the scenery, FSX Steam Edition will immerse you in a dynamic, living world that brings a realistic flying experience into your home.  Microsoft Flight Simulator X Steam Edition includes Windows 8.1 support.  
Features of
FSX Steam Edition
24,000 airports
24 aircraft
Choose to be a pilot, co-pilot or air traffic controller
Racing mode allows competitions such as the Red Bull Air Race
Three levels of difficulty
Varying weather conditions add realism to the challenge of flying
80 missions
Add to the collection of aircraft with FSX add-ons
System Requirements 
Operating System
Windows XP (SP2) or later
Processor

2.0 Ghz or higher (single core)

Memory
2 GB RAM
Graphics

: DirectX®9 compliant video card or greater, 256 MB video RAM or higher, Shader Model 1.1 or higher (Laptop versions of these chipsets may work but are not supported. Updates to your video and sound card drivers may be required)

Hard Drive
30 GB available space

Other

Broadband Connection require + Free Steam account

If you are not familiar with Steam you can check it out here http://store.steampowered.com/about/

Broadband internet connection required for multiplayer features
© 2015 Microsoft Corporation. All rights reserved. Microsoft and Windows are trademarks of the Microsoft group of companies. (c) 2015 Dovetail Games, a trading name of RailSimulator.com Limited ("DTG"). All rights reserved. Dovetail Games is a registered trademark of Dovetail Games Limited. All other trademarks are the property of their respective owners. Unauthorised copying, adaptation, rental, re-sale, arcade use, charging for use, broadcast, cable transmission, public performance, distribution or extraction of the product or any trademark or copyright work that forms part of this product is prohibited.