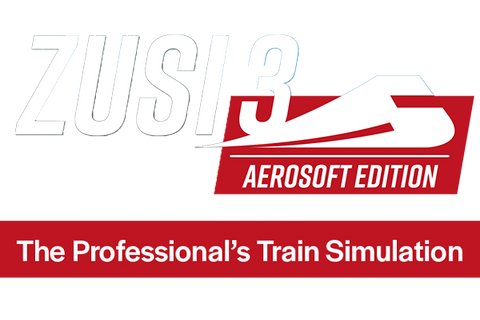 Zusi 3 Aerosoft Edition Train Simulator
OUT NOW

Enter the virtual cab
Experience a train driver's operations at the highest level of realism. Zusi 3 Aerosoft Edition is a train simulation for PCs, the professional version of which is also being used in railway companies for engine driver training. It features faithful track recreations, authentic and physically correct driving and braking behaviour, prototypical and fully functional signalling, realistic timetables, and various variants of the train protection systems PZB and LZB.
Zusi 3 Aerosoft Edition is especially suited for ambitious hobby train drivers, while beginners can easily and intuitively dive into the world of train simulation thanks to various assistances – for example, it is possible to set the protection systems less strict for an easier learning curve.
In total, Zusi 3 comes with 10 routes from different eras, including the route Cologne–Düsseldorf that was developed for the Aerosoft Edition. This means more than 500 kilometres of track for the virtual train driver to explore.
Zusi 3 can also be extended to your liking. At the time of release, numerous additional routes, vehicles, timetables, and more are already available. The included editors can be used to create own expansions for Zusi to share them with the community.
Features
Drive in the route network following pre-defined timetables. Hundreds of equal trains can operate at once in a timetable, influencing each other. An autopilot controls all trains other than one's own.
Preview of every train with an overview of timetable and vehicles
Vehicles controllable with keyboard and mouse or the Raildriver Cab Controller
Assistance for beginners: adjustable level of realism
True-to-original driving and braking dynamics, incl. consideration of tilt, and air and curve resistance
Simulation of various drive types and brake systems
Train protection systems rendered with all functions relevant to the train driver:

Indusi I54, I60, I60R, PZB60 (ÖBB), PZB90 1.5 und 2.0, PZ80, PR80R
LZB/I80 with and without PZB90, CIR-ELKE, LZB full and divided block control
GNT/ZUB122 and 262 with tilting technique
ETCS (European Train Control System)

Various Sifa systems are simulated in detail
Various door protection systems
Original sounds in surround
True-to-original signalling. All German signal systems are included
Exact, true-to-original track routeing incl. super elevation even at points
Tracks are built-in modules that can be merged into larger networks within the timetable scenario
Included editors to build your own timetable scenarios, vehicles, tracks, etc
Interfaces for geo data to build realistic and precise tracks
System Requirements
| | |
| --- | --- |
| Operating System | Windows XP / Vista / 7 / 8 / 10 |
| Processor | Intel Core CPU |
| Memory | 2 GB RAM |
| Hard Drive | 2.5 GB available space |
| Graphics | 3D Graphics card. nVIDIA GeForce GTX 260, 512 MB or ATI Radeon HD 5670, 512 MB |
| | |