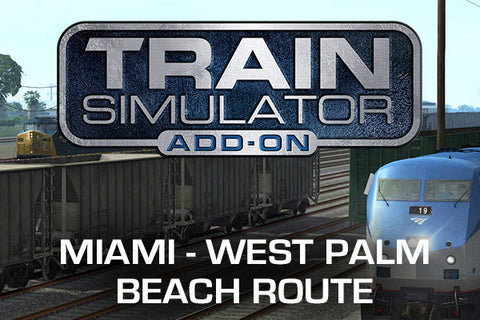 Miami - West Palm Beach Route Add-On
REQUIRES TRAIN SIMULATOR + ACTIVE STEAM ACCOUNT
Soak up the sun in the new Miami - West Palm Beach route for Train Simulator and drive the commuter rail line under cloudless blue skies from Mangonia Park to Miami Airport. 
The 70 mile (114 km) long route runs parallel to the Southeast Florida coast and has 18 stations along its length. A typical station on the route is composed of two side platforms connected by an overpass and two tracks, one for southbound trains and the other for northbound trains 
The most notable station along the stretch of line is West Palm Beach, which opened to passengers in 1925. This station was fully restored in 1991 and is on the National Register of Historic Places, its pastel walls and iconic architecture contrast the heady diesels that roll through. 
The new Miami Airport Station features prominently alongside Miami Central Station, although it is still to be officially opened. The two stations are a key point on the route, joining rail, metro, bus and airport shuttle services in one large transport hub 
Under an agreement with the Florida Department of Transportation, CSX provides dispatch services, plant maintenance and freight traffic on the route, alongside passenger services operated by Amtrak. The route is relatively high speed too, with a maximum permissible speed of 79mph (127 km/h) for passenger traffic and 60mph (96 km/h) for freight traffic. 
Also included with the route are the P42DC and the Dash 8-40CW locomotives. The Silver Star passenger service is replicated on the route, which originates in Miami and runs all the way to New York along the Atlantic Coast. Between New York and Washington the train is hauled by either ACS-64, HHP-8 or AEM-7 locomotives; between Washington and Miami, P42s are used. The Silver Star has a distinctive set of coaches so travellers can travel the long distance in comfort. 
Key Features
70 mile (114km) route from Miami to West Palm Beach
Miami Central Station
New Miami Airport Station
Stunning Florida coastline
Historic West Palm Beach Station
Amtrak P42DC locomotive with Silver Star passenger cars
CSX Dash 8-40CW
Scenarios for the route
Quick Drive compatible
Download size: 1,273mb 


Scenarios
Eight scenarios for the route: 
Welcome to Florida
Southern Silver Service
Rock Through the Night
Grand Opening
Dash 8 Yard Work
Silver Star to Miami
Mainline Freight
Florida Storm

System Requirements

Operating System
Windows® XP / Vista / 7 / 8

 

Processor

2.8 GHz Core 2 Duo (3.2 GHz Core 2 Duo recommended),

AMD Athlon MP (multiprocessor variant or comparable processors) 

Memory
2 GB RAM
Graphics
512 MB with Pixel Shader 3.0 (AGP PCIe only)
DirectX
Version 9.0c

Network

Broadband Internet Connection + Free Steam account 

If you are not familiar with Steam you can check it out here http://store.steampowered.com/about/

Hard Drive
6 GB available Space
Sound Card
Direct X 9.0c compatible
Additional
Quicktime Player is required for playing the videos