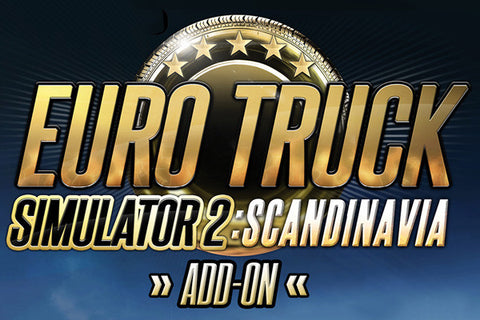 Euro Truck Simulator 2 - Scandinavia Add-on
Euro Truck Simulator 2 Scandinavia add-on is the most exciting expansion pack for the incomparable Euro Truck Simulator 2 so far. Featuring Sweden, Norway and Denmark, you'll have access to mile upon mile across these three beautiful Nordic countries.
Fifteen new ports and ferry locations also allow you to board ferries directly and to discover 25 Scandinavian cities like Stockholm, Gothenburg, Malmo, Oslo, Stavanger, Bergen, Copenhagen, Aalborg and Esbjerg.
Reflecting how ferries are an integral part of Scandinavian transportation, SCS Software has painstakingly simulated the ships and Nordic ferry locations you'd see in real life today. Many of the ports in this pack are the same size as entire cities depicted in mainland Europe elsewhere within the game. The sea transportation network also allows the player to use alternate connections between locations in Scandinavia and other territories of the map with direct routes to the United Kingdom and Poland.
Features
New trailer models including semi-trailers for transporting livestock
Introducing the Mercedes Benz Actro 2014 cab
New industries to service with 80 new cargo types which include foodstuffs, machinery, construction plus deliveries to Volvo and Scania dealerships across Europe
Updates to the core Euro Truck Simulator 2 game
Brand new rims and tyres upgrades
Brand new Viking Legends Paint Jobs included (

Boxed product Only

)
THIS IS AN EXPANSION PACK ONLY. EURO TRUCK SIMULATOR 2 (AVAILABLE SEPARATELY) MUST BE INSTALLED FOR THIS PRODUCT TO FUNCTION. YOU MUST ALSO HAVE AN ACTIVE STEAM ACCOUNT WITH EURO TRUCK SIMULATOR 2 ACTIVATED ON THAT ACCOUNT 
System Requirements
Operating System

Windows XP(SP3) / Vista / 7 / 8
Processor
intel 2.4 ghz or greater
Memory
2 GB system memory
Graphics
Dedicated graphics card with 256 MB memory
Hard Drive
1.5 GB available space

Others

Requires free steam account and internet connection

If you are not familiar with Steam you can check it out here http://store.steampowered.com/about/