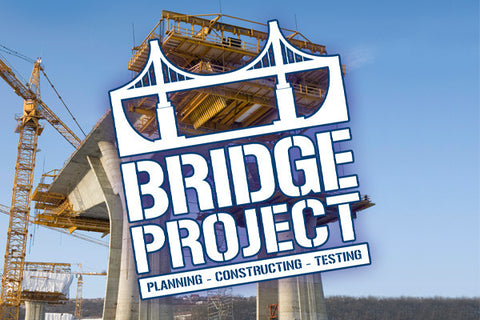 Build a bridge .... and get over it! 
From Excalibur's range of construction games for PC, The Bridge Project is the successor to the original and award-winning bridge Bridge Builder simulation, all amateur designers and structural engineers finally have a new challenge on their PC. 

The gameplay has been subject to much tweeking and development with new up to date materials exciting scenarios and a variety of tasks waiting to be solved. Build stable bridges in a variety of landscapes with detailed environment. Take on the task of constructing a huge variety of different bridges: suspended, folding, stone, steel, wood, car or railway bridges. 

Whilst you enjoy the enhanced graphics and the new, improved physics engine putting the most spectacular bridges to the test with stress tests. 

Download free levels from the global Bridge Builder 2 community, and participate in competitions. 
Features of the Bridge Project
All-new in-game graphics with a variety of detailed 3D objects 
New user interface for easy operation 
Additional materials such as wood and concrete
In addition to trains, cars and ships you can now test vehicles such as tanks, heavy trucks and buses 


Your Bridges
Extended weight and stability testing of different vehicles, or natural events such as storms or earthquakes 
48 varied and challenging levels: different towns, canyons, rural areas 
Set the design tasks to different modes - single or expert. 
Editor feature - build your own levels and share them with other players 
Compare your technical skills with other players in the global online ranking 
Take part in competitions, improve your own record


 System Requirements
| | |
| --- | --- |
| Operating System | Windows XP(SP3) / Vista / 7 |
| Processor | Intel 2 GHz or greater |
| Memory | 2 GB system memory |
| Graphics | Dedicated graphics card with 256 MB memory |
| Hard Drive | 500 MB available space |
| Other | Internet connect needed for global ranking system |