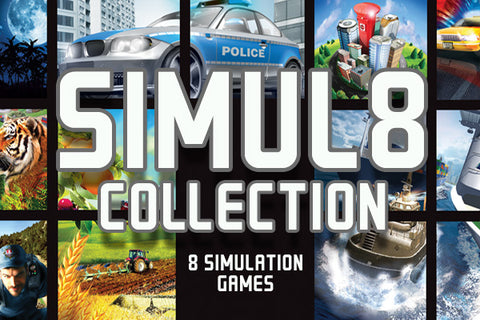 Simul8 - 8 Different Simulation Games
In this high value collection of simulation titles, you can enjoy sailing the oceans, running a farm, policing the streets, zoo-keeping, search and rescue, deliver the mail, drive a taxi and survive on a deadly island.
As the name suggests there are eight simulation PC games to be enjoyed.
Post Master
Can you take control of a mail distribution company where your business will need to adapt to a growing city? Will you be able to handle the pressure of new delivery opportunities or are other delivery businesses step in to pick up the slack and impact your profit margin.
Features of Post Master:

An ever growing city that changes frequently
Hire staff and purchase personnel
Set the duties and route of each vehicle
Purchase objects for your garage and offices
Hire security guards to prevent post office robbery
Invest in new offices to expand the reach of your services
Adjust the prices of your services, do you want to charge a fortune or undercut your competitors?
Better Late Than DEAD
Awaking on an island with no memory, you have just one memento of the life you led before… A child's photograph. Who is this? You must search the island for useful tools that will aid in your escape. As time passes and hopes of survival hang by a thread, you realise that this island is not as it seems.
Features of Better Late Than DEAD
Craft items using a combination of objects and methods like tying and cutting
Build a shelter to protect you from rain and dangerous animals
Online Multiplayer
Lose blood, break bones, become poisoned and stave off hunger and thirst
Varying weather conditions that affect gameplay
Procedurally generated items that the player must find to leave the island
Dangerous animals including wolves, spiders and bears
Capture animals using traps
Permadeath – Will you be able to escape the island or will you succumb to its menace?
European Ship Simulator

A speeding power boat, a humble tug to a luxury cruise liner. Captain eight highly detailed ships, fight against realistic water physics and take in spectacular vistas as you navigate famous European ports.
Features of European Ship Simulator
Eight ships with highly detailed bridges and 
Six ports to explore
Mission editor
Weather conditions include rain, sun and snow
Realistic water physics
20 missions including some of which can take 40 – 60 minutes to complete
Recovery Search and Rescue Simulation

Rescue Team One to Base. Missing person found safe and well. Mission accomplished. Returning to base. Over."Strap on your boots and hook up your compass - as a new recruit to Rescue Team One, you'll need to use your expert tracking skills to locate a variety of important objects and missing people 
Features of Recover Search and Rescue Simulation
Navigate a large national park landscape full of trees, natural dangers and man-made structures such as forts, statues and memorials
Clues to help track important objects and missing people
Use the S.A.R. bike to travel across the vast map
Follow missions set for you by Rescue Base
Make up your own missions with the mission editor and collection of assets
Track during the day or night
Evacuate injured people by calling in the S.A.R. helicopter
Now with improved audio and graphic settings.
Taxi!
Run your own taxi cab company by hiring drivers, upgrading vehicles and getting behind the wheel to complete fares. Some passengers will even encourage you to break traffic laws to get to their destination quickly, but try to avoid the watchful eye of the police.
Features of Taxi!
Crashes will cause your taxi cab to dent
Hire taxi drivers
Purchase new vehicles
Upgrade vehicles
Day & Night cycle
Weather effects including fog and rain
Penalties for badly maintained vehicles
Speed bumps and potholes
Farming World
Whether you specialise in grain, fruits or even maintaining your own dairy farm, in Farming World you have the ultimate choice on how you shape your business. With dozens of seed types to choose from and an extensive stock market listing, you'll have to adapt to become profitable.
Features of Farming World
Develop road networks for your vehicles to use
Purchase and rent land
Over 30 different types of seeds to plant
Over 40 building types
12 Different animals to purchase
Take on contracts to earn more money
Detailed weather reports
Police Simulator 2
Police Simulator 2 allows you to assume the role of Chief of Police as you fight to stem the growing tide of crime in your city.
Deploy officers to trouble spots and create new crime fighting initiatives. As a publicly elected official, your career will rise and fall on the decisions you make and the feedback from the residents of your city.
Features of Police Simulator 2
Infiltrate criminal organisations with undercover agents and send out a force to capture the leads.
Place speed cameras to capture dangerous drivers and surveillance cameras to assist your detectives in solving cases.
Upgrade your high tech sophisticated crime lab to catch the perps, from finger prints to DNA analysing.
As your officers exceed expectations and go beyond the call of duty, they will receive promotions that increase their abilities
Purchase, sell and repair your vehicles, from patrol cars to helicopter
Zoo Park
Care for over 40 different animals from all four corners of the Earth whilst running a professional programme of rescue, rehabilitation, research and conservation.
Features of Zoo Park
Build a carefully planned zoo park which keeps all the animals and your customers happy
Make sure each animal's habitat is the optimum size
Feed each animal type correctly and make sure it can exercise comfortably
Hire staff to help you run your zoo park
Make sure your facility runs like clockwork in order to gain the all-important popularity points from your visitors
SYSTEM REQUIREMENTS
| | |
| --- | --- |
| Operating System | Windows Vista/7/8 (All OS must be 64 bit) |
| Processor | Intel i3 2.6 or equivalent |
| Memory | 4 GB Ram |
| Graphics | Dedicated graphics with 1GB VRAM (DX11 compatible - Nvidia Geforce GTX 470/ATI Radeon 6900 series or greater) |
| DirectX | Version 11 |
| Hard Drive | 2 GB available space |