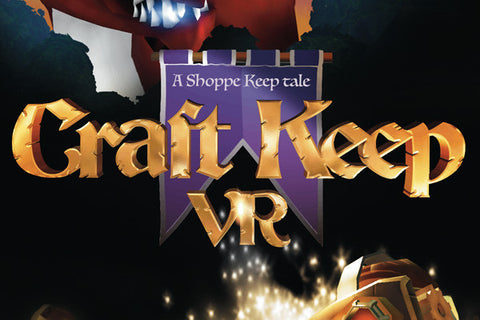 NOTICE:
Requires a virtual reality HTC VIVE headset with 2m x 1.5m playing space, or OCULUS RIFT headset with Touch Controllers
Craft Keep is a truly immersive VR game from the developers of runaway indie hit Shoppe Keep. Using the same quirky art style indicative of indie games and with the same "tongue-in-cheek" characteristic as Shoppe Keep, Craft Keep features four different scenarios with a broad spectrum of difficulty levels. It's a truly playable game – not just a tech demo. 
Exploring a completely new twist on the fantasy element of Shoppe Keep, Craft Keep transports players to another realm where they play the part of a blacksmith crafting potions, swords, daggers and more. 
Craft Keep is compatible with the HTC Vive headset using room scale to allow the player to walk around their own shop, and is also now compatible with Oculus Rift & Touch. 
Both the HTC Vive and the Oculus wireless controllers completely mimic the player's movements so players can also fire the arrows they have created at their customers too!
Do you want to craft magnificent blades and brew powerful concoctions for local adventurers? If the answer is yes- and why wouldn't it be? - the position of local trainee Alchemist-blacksmith has just become available.
As the local blacksmith you'll be trusted by hundreds of adventurers to provide them with powerful and reasonably priced swords. Adventurers will rush to your stall asking you to craft something from the simple iron PlainGru sword to a complex sophisticated state of the art  Frizzy Dragonbone JagMar sword. 
You can create some pretty potent concoctions with this bad boy cauldron or maybe enchant some of the weapons you have fashioned.  Using enchantment stones your weapons can gain properties such as fire and ice. 
Why not start a medieval micro-brewery brewing your own beer - but perhaps not advisable to drink whilst operating your machinery.
The local adventurers have a busy time hacking ans slashing so do not maintain their blades. Step in and make yourself indispensable as you repair the blades to their former glory.  Repair their blades using the forge, anvil and hammer.
SYSTEM REQUIREMENTS
Operating System

Windows 7 SP1, Windows 8.1 or Windows 10

Processor
Intel i5-4590, AMD FX8350 equivalent or better
Memory
4 GB RAM
Graphics
NVIDIA GeForce GTX 970, AMD Radeon R9 290 equivalent 
Hard Drive
1 GB Free Space

Other

Free Steam account required for registration and gameplay

HTC VIVE headset or OCULUS RIFT & TOUCH headsets required for gameplay
also purchase from